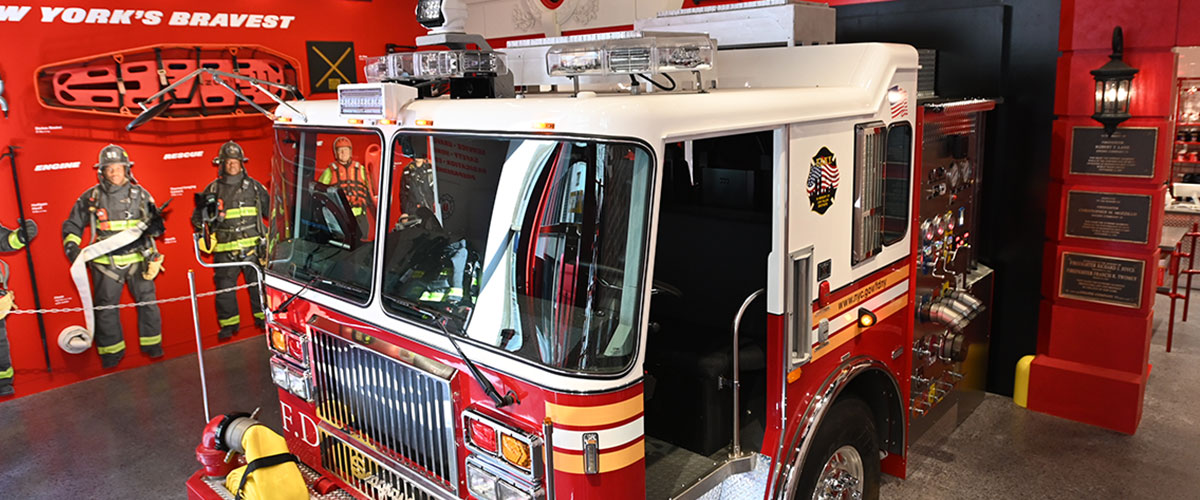 Plan Your Visit
About the FDNY Fire Zone
The FDNY Fire Zone is New York City's state-of-the-art fire-safety learning center. At the Fire Zone you can climb on a realistic fire truck, try on bunker gear, meet a firefighter and learn how to crawl through a smoke-filled hallway.
The Fire Zone gives visitors a first-hand experience in what to do in a fire emergency through a variety of hands-on exhibits and multimedia presentations, including a simulated fire scene.
Fire Simulator
At the heart of the Fire Zone experience is the innovative fire simulator that utilizes special effects and multimedia to help teach visitors about fire safety and what to do in case of a fire emergency. A firefighter and facilitator guide visitors through the interactive presentation. Visitors leave the Fire Zone with materials necessary to eliminate fire hazards in their own homes and to create escape planes for their families.
The presentation is recommended for children five years old and up.
Location
The FDNY Fire Zone is located at 61 West 48th Street, New York, NY 10020.
Hours of Operation
Temporary COVID-19 Hours:
Monday: Closed
Tuesday – Saturday: 11:00 AM – 4:00 PM
Sunday: Closed
Admission
General admission to the FDNY Fire Zone is free.
The Fire-Safety Presentation is $6.00 for adults and children and $2.00 for seniors.
A group rate of $5.00 per person applies to groups of 15 or more.
Wheelchair Accessibility
The FDNY Fire Zone is fully wheelchair accessible.