Congratulations to our #FDNYSmart School of the Month, P.S. 36X, The Rising Stars School in the Bronx.
Students from the school participated in fire safety events at their school, as well as attended the FDNY's Fire Prevention Week event – FDNY Fire Safety Day – at Rockefeller Center.
At FDNY Fire Safety Day, children also had the opportunity to learn critical fire safety lessons from members of the Foundation-funded Fire Safety Education Unit, as well as to interact with members of the FDNY and FDNY apparatus.
"It's so important for our students to be educated in fire safety," said Carmen Mattimore, a teacher at PS36X who brought her students to Fire Safety Day. "Many of our children were unaware of what to do in an emergency and they learned what to do in case of a fire, the importance of smoke and carbon monoxide detectors and to make sure they have a family meeting place in case of a fire."
"Fire is everyone's fight, and fire safety is a critical lesson – one that can be learned at any age," said Fire Commissioner Daniel Nigro. "It's information that will quite literally save your life. This is always one of our favorite events because we know this information will make an impact in the lives of our children, their teachers, and all of their families for many years to come."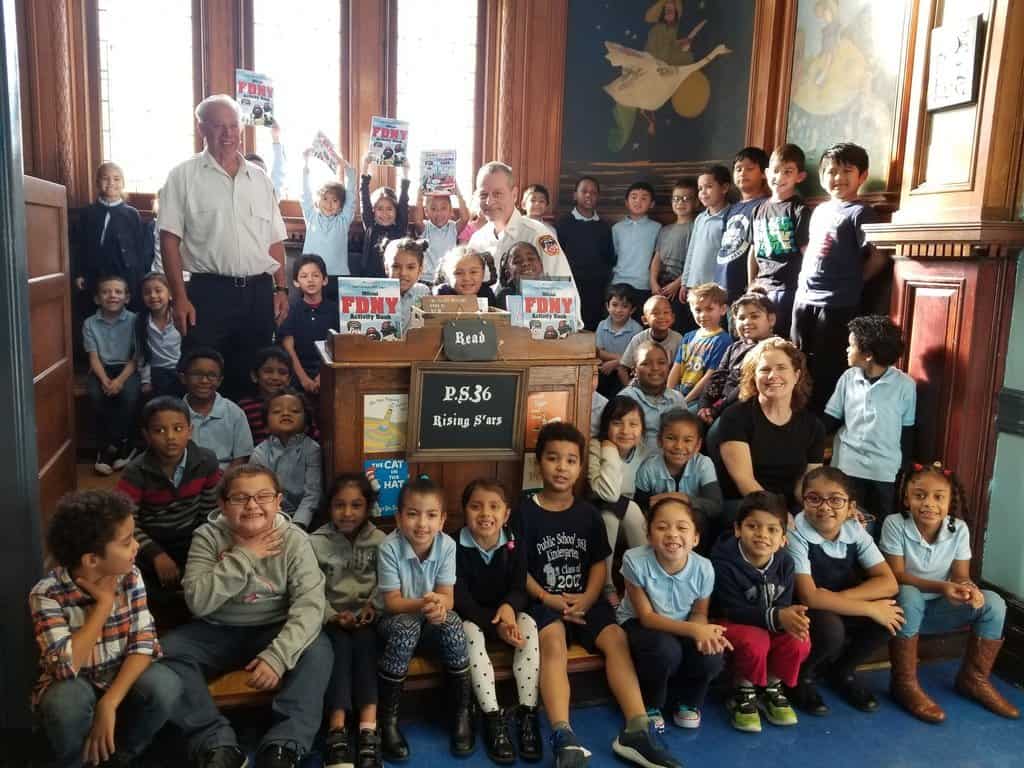 School leaders coordinated fire safety presentations in their school via the FDNY Smart website and, on Fire Safety Day, students who attended were sworn in as Junior Firefighters and EMTs.
With more than 750 enrolled students, PS36X – according to its mission statement, aims to be "a school committed to building the confidence and perseverance of each student that enters its doors. We believe that we must encourage our students to become risk-takers and critical thinkers to achieve high standards of excellence. We will nurture our students as they overcome their fears and discover they can be leaders of their own learning. By strengthening teacher practice and engaging our students in learning, we will inspire our students to become independent lifelong learners. We value a respect for diversity and believe that when educators, parents and students work together for the purpose of personal and academic success, we can motivate our students to 'Reach for the Stars' and achieve their dreams."
"Fire Safety Day was very informative," said Ms. Mattimore. "It was also a lot of fun for the students, as well as the teachers and we would love to work with the FDNY in the future on further fire safety education."
Congratulations to PS36X! Thank you for working to keep your students and your surrounding community #FDNYSmart!
For more information on how you can get involved with our Fire Safety Education Program, please click here.